Joybird Sofa Prices, Durability, Delivery, Pros and Cons
Joybird is an online furniture company that specializes custom-made, hand-crafted home furnishings that meet the unique tastes of its customers.
Joybird's mission is to create high-quality, custom furniture at reasonable prices. The brand goes the extra mile with options for you to tailor your item to your exact needs and specifications. The result is a one-of-a-kind piece and a white-glove experience you won't get with many other companies.
The furniture is inspired by the mid-century modern movement and designers like Frank Lloyd Wright, Cara Greenburg and Eero Saarinen. It generally revolves around the living room with sofas, sectionals, chairs, tables and storage, but Joybird also has expanded into a range of bedroom, office and outdoor furniture as well.
If you're in Brooklyn, Washington D.C. or Chicago, you can go and visit a Joybird showroom in person during regular business days and hours (which includes all 7 days of the week for them). Otherwise, you can browse their online selection.
But before you go and do that, read our review of Joybird to find out how it ranks among furniture retailers, from pricing to quality and right down to its service team.
Pros & Cons of Joybird Furniture:
Pros
In-home, white glove delivery available
Design consult offered
No restocking fee on returns
Limited lifetime warranty
Hundreds of fabric and color options
Fabric samples available
The sectional is reversible
1-year trial available
Free pickup returns within 14 days
Cons
Shipping ranges from $49 to $99
Free returns only in the first 14 days
Some fabrics take longer to ship
Limited 3 year warranty on fabrics
Only 3 showrooms: New York, Chicago and D.C.
How much are sofas and couches from Joybird?
Overall, the price for a sofa ranges from $1200 to $3500, so it is fair to say that their prices are representative of higher price points and budgets. On the lower end is your typical three seat sofas and loveseats. On the higher end are oversized sectionals and leather, luxury sofas.
Joybird does offer a variety of different couch types including sofas, sectionals, sleeper sofas, loveseats, chaises, and daybeds. You may find these items range quite a bit in price. As we mentioned before, Joybird has expanded into other pieces of furniture, but this review primarily focuses on sofas, loveseats and sectionals.
What is the most popular sofa from Joybird?
The Lewis Sectional
Price: Starts at $2395
Sofa Dimensions: 108" x 60" x 32"
Seating Dimensions: 101" x 48" x 18"
Arm Height: 4" x 28"
Sofa Seating: 28"
Leg: 7"
Available Colors: 44 different colors or fabrics.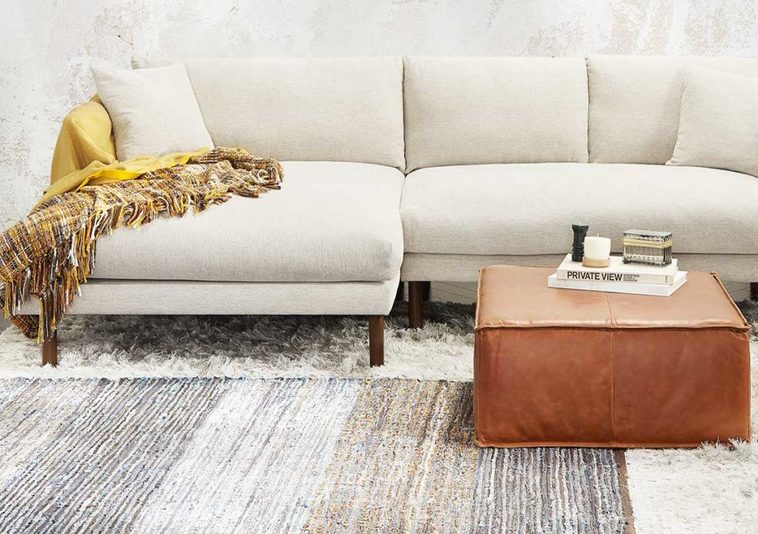 You'll have plenty of room to spread when you lounge on the stylish Lewis Sectional sofa. This sofa is built on a solid hardwood frame and is totally customizable in a wide selection of fabrics, colors, wood stain for the hardwood legs, leg options, and sectional orientation.
Customers love the comfort level of this sectional and its seat cushions and back cushions. It's also a good size, which makes a great place for family lounging for movie night. For this, and more, we see this as the most popular Joybird couch.
Features:
The frame is constructed of responsibly-sourced kiln dried hardwood. Once assembled the frames are wrapped in 2-pound foam, which exceeds industry standards.
The cushions are made of 2.0 high density polyurethane foam combined with layers of fiber for comfort. They contain no flame retardants or toxic chemicals.
The legs are made of solid wood and come with an optional center leg that can increase the lifespan of the structural support of the upholstery.
The suspension is seat-sinuous spring backed with poly webbing.
Joints are glued, stapled and screwed to ensure frame stability and longevity.
Legs are screw on for easy assembly.
Seating style is loose back and loose seat.
The glues and stains used are water based, with low VOCs.
Care Instructions:
Vacuum regularly with a vacuum attachment.
Do not expose upholstered pieces to direct sunlight.
Use a cleaning product that corresponds with your fabric's cleaning code. Always blot stains; never rub. Use a clean, dry, white cloth.
Water. Use only water based cleaning products.
Solvent. Use only water free cleaning solvents.
How long does it take for Joybird to deliver sofas?
Joybird sofas typically ship in 1 to 2 weeks, however, some customizations will take longer to ship. Unlike other companies that just drop your sofa off at the curb, Joybird offers you the option of white glove delivery service which includes the delivery, unpacking your item and bringing it inside to stage where you like. Their delivery guys get bonus points from us for this.
In-home delivery with white glove service comes at a flat rate fee of $99 per order. However, if you elect against this, they will accommodate a curbside delivery for $49.
How long do Joybird sofas typically last?
Joybird sofas, if used reasonably, can last many years. Joybird creates high quality furnishings made with heavy-duty, durable materials. Given that Joybird handcrafts its items, you can be sure that quality craftsmanship goes into each piece and this type of construction tends to last longer than furniture made on assembly lines.
Joybird backs this up with a lifetime warranty on the foundational pieces of their furniture items, i.e. the wood and steel that represent the interior structure of their items. You also get a 3-year warranty on fabrics, which is reasonable since wear and tear on the exterior elements can not be avoided (unless you plan to use the item for show only).
Joybird Return Policies
Joybird offers a 14-day, free return policy that includes a pickup by a team who will help re-package the item. Orders under $7,500 can be returned to us for a full refund. Orders $7,500 and over can be returned, but they'll deduct a 20% return processing fee from your refund.
Joybird does not allow exchanges for delivered furniture items.
Joybird offers a 365-day trial for peace of mind to be sure you truly love the item. Should you decide to return, fees will be incurred after the initial 14-day return period has elapsed.
Finally, Joybird offers a 3-year warranty on external fabric/materials and a lifetime warranty on foundational elements.
Trial/Returns: 14 days for free returns, 365 trial
Financing: Financing available at checkout
Warranty: 3 years for external fabric, lifetime warranty for foundational elements
Where It's Made: Mexico
Joybird Reviews from Real Customers
We enjoyed reviewing Joybird and think this brand is a great choice for shoppers who are:
Looking for quality crafted furniture and in-home delivery service so you don't have to worry about unpacking or setup
Don't mind paying for shipping and are comfortable with the 14 day return window
Looking for a stronger warranty that will protect their sofa for the life of the purchase
Don't mind shopping online as Joybird only has 2 showrooms currently
Want long-lasting, sturdy furniture that doesn't need to be moved frequently
Here are some real positive reviews from Joybird customers
"I have been on the search for a good leather sofa for a while now…and I finally found THE ONE! I cannot say enough good things about this beautiful sofa. Super comfortable, a statement piece and it's very high quality. Definitely recommend it!"
"I just got my new couch a few days ago and I am so happy with my purchase. It is beautiful and comfortable. Not too soft, not too hard, just the perfect amount of firmness. Great size for the apartment, and big enough to nap on."
Here are some reviews that reflect negative Joybird experiences
"I had to wait longer than they originally indicated, and there is an issue with one of the cushions (they're taking care of it). Otherwise, all's good. This sofa is sturdy and the leather is good quality. Rubber pads are a must for hardwood floors."
"One of the cushions is slightly off in color. I'm hopeful that, over time, the leather will wear in a way that evens it out."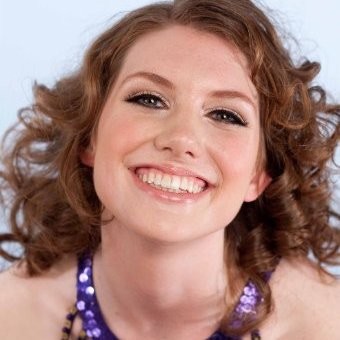 Writer with a background in ergonomics. Enjoys reviewing and discussing home furniture & clothing , that's comfortable and supportive for the entire family.