Burrow is a high-quality furniture company that creates stylish and long lasting sofas, storage solutions, tables, and accessories for your living room and home office.
When the brand was first launched in 2016, it's co-founder Stephen Kabul wanted to design an ergonomic couch that looked good, felt good, and was easy to move after herniating two discs in his back. At that time, he felt that consumers only had two options when it came to furniture – either it was lightweight but cheap and badly made, or it was high-quality but unaffordable and too heavy. So, he teamed up with fellow student, Kabeer Chopra, at the Wharton Business School, University of Pennsylvania, to create Burrow.
The duo's initial goal to create a high-quality, affordable, lightweight piece of furniture, combined with some extraordinary "in-the-box" thinking, has led them to establish a socially conscious brand developed around three innovative concepts that set them apart from their competitors.
Burrow has sought to be:
Suppliers of modular furniture that's expandable according to their customers' needs.
Manufacturers of furniture that looks good and lasts a long time.
An organization that takes care of the environment and invests in local communities.
Each piece of Burrow furniture is handcrafted from durable, sustainably-sourced hardwood and scratch-resistant, stain-resistant, non-toxic fabrics.
In this article, I'm going to explore the pros and cons of shopping with Burrow, tell you about their customer service policies, and review one of the brand's best-loved products, the Nomad Sofa.
Pros and Cons of Burrow
Pros
Unlike some of the other brands we've reviewed (Ashley Furniture, Blu Dot, and Joybird, to name a few), Burrow offers free shipping on all orders.
Burrow delivers much faster than many other made-to-order brands. For example, while Ethan Allen sofas can take up to 8 weeks to arrive (and cost up to $199 to be delivered), sofas from Burrow will arrive in 3-10 business days.
All Burrow's items are made in the US, and as a brand, they are committed to sustainable working practices and putting money back into the community.
Burrow offers a 1-year warranty on all its sofas, not to mention free repairs, replacements, and returns on faulty products up to 12 months from the date of delivery.
The brand carries a wide range of sofas, sectionals, and loveseats in various sizes, fabrics, and colors. Plus, it's really easy to accessorize with Burrow, because the brand also sell cozy throw pillows, rugs, and blankets.
You get a free 30-day free trial period to make sure you're happy with your purchase. If, for any reason, you do not love your Burrow couch when it arrives, or if there is something wrong with it, you have 30 days to return it. There are some fees and restrictions associated with returns – but it's still a good policy in my opinion.
Cons
Burrow doesn't offer in-home delivery or a set up option. Burrow sofas are made in a modular design, which means the pieces will come in a box, and you will have to assemble it yourself after it arrives.
There's no lifetime warranty. A year isn't a long time, and if you encounter a fault with your sofa after the twelve-month mark, you can't send it back.
Returns incur additional charges. If you decide, during your 30-day free trial, you want to send your Burrow sofa back, you have to pay 10-20% of the price of the couch to return it, depending on whether you've kept the original packaging. Returns fees are usually capped at $250.
They only have one showroom, and if you live outside New York City, it might not be convenient for you to visit it. However, there are ways for you to get a feel for their sofas from the comfort of your own home. Schedule a call with their design team, request some free swatches, or use their 'Air Viewer' tool to see what their sofas would look like in your living room.
Compared to other lightweight, Scandinavian style, self-assembly furniture, Burrow sofas can be expensive. Modular design sofas from IKEA start at $429, with a single section costing only $269. However, IKEA is lower quality.
How much are sofas from Burrow?
Prices range from $1395 – $3995, putting them in the mid-high pricing bracket.
Burrow sells a wide range of high-quality furniture items for your living room and office, including sofas, love seats, sectionals, sleeper sofas, and armchairs. These come in a variety of colors and materials, including velvet and leather.
The size of the sofa and the type of upholstery you choose will both have an impact on how much your new Burrow sofa will cost. At the lower end of this scale, you have your basic 3-seater sofa, upholstered in an olefin weave (and again, available in a range of colors, so not a bad option if you've reached the top end of your budget), while at the higher end, you'll find the oversized sectionals and leather upholstery options.
How long does it take for Burrow to deliver sofas?
Burrow offers free and speedy shipping door-to-door. The brand tries to get your new sofa out to you within 1 week of your order being placed. However, depending on your location, you could receive it quicker or later than this, between 3 to 10 business days.
This is a pretty standard timeline for sofa delivery in the US. While some online sofa retailers, (like Wayfair and Amazon), can offer same day shipping on some of their products, others we have reviewed, like West Elm, take significantly longer to deliver their products (at least 2 to 3 weeks). Plus, both of these brands charge expensive shipping fees.
Ethan Allen and West Elm do have the advantage of offering an in-home delivery service, though, which you don't get with Burrow. The sofas are modular and arrive in boxes, unassembled. You'll need to move the boxes inside and put your sofa together yourself – but don't worry!
The boxes are fairly lightweight and easy to carry, and the different sections are easy to move and assemble. I was pleasantly surprised by the ease of assembly when I tried and reviewed the 4 seater Nomad sofa.
How long do Burrow sofas typically last?
Burrow furniture is lightweight but durable. As part of the brand's commitment to creating sustainable products, it manufactures items that last for years and years (to avoid filling up landfills) and grow along with their owners. I can't speak to this directly as I haven't had it for years and years, but the quality definitely seems up to snuff.
One benefit I can see for the modular design is moving. Burrow sofas are lightweight and can be quickly disassembled and put back together, so you don't have to worry about carrying a heavy sofa in and out of the building, up stairs, or trying to fit it through a narrow doorway. Likewise, thanks to the modularity, you can add a new section to your sofa for every extra addition to your family over the years.
That's an advertised feature, but I don't know if it's practical. I guess time will tell.
You might worry, because they're so lightweight and they carry such a limited warranty, that Burrow sofas won't stand the test of the time, but I'm decently confident that if you treat yours well and it doesn't get too much wear, a Burrow sofa should last you at least 5 years.
Burrow Return Policy
Burrow operates a 30-day return policy. If you are not happy with your purchase, you have one month from the date of delivery to send your sofa back. However, please note that Burrow charge up to $250 to process returns. T
he specific amount you are liable for depends on whether you have retained the original packaging for the item (in which case, you have to pay 10% of the original cost of the product up to $250) or not (in which case you have to pay 20%). It is important to know that some items, such as seat modules, armrests, legs, and cushions, are non-returnable if they are purchased individually.
Furthermore, Burrow offers a warranty that covers defects in materials and workmanship for up to one year, starting on the date of delivery. There are no fees to repair, replace, or return an item that's covered by their warranty.
Again, I haven't experienced this because I haven't had my sofa long enough to want to return it or replace pieces. But I'll update the article if it ever comes up.
Trial/Returns: 30-day free trial period (returns fees apply).
Financing: Get up to 12 months' 0% APR financing at the checkout. Prequalify online with Affirm Financing.
Warranty: There is a 1 year limited warranty on all Burrow sofas.
Production: Burrow sofas are manufactured in the USA.
What is the most popular sofa from Burrow?
Nomad Sectional Sofa
Price: starts at $1695
Sofa Dimensions: 86.5" L x 36" W x 35" H
Seat Height: 17"
Seat Depth: 22"
Arm Height: 23"
Leg Height: 7"
Chaise Length: 61"
Color options: Ivory, Brick Red, Crushed Gravel, Navy Blue, Charcoal
Available Leg Finishes: Ebony, Walnut, Oak
Arm Style Options: High or Low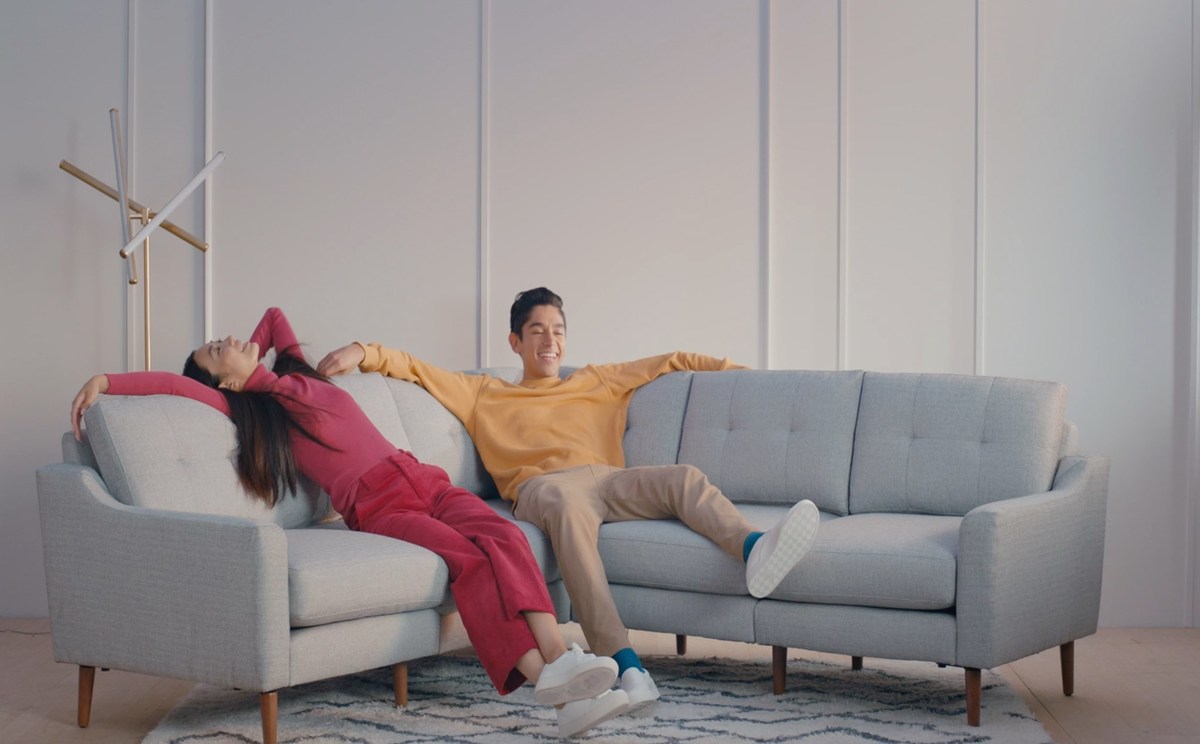 Our Review of the Nomad Sectional Sofa
At Home of Cozy, we know there's a lot of things to consider when you're buying a new couch. In addition to looking at the above specs and the different upholstery options for it, we've actually tested the Nomad sofa ourselves, and evaluated it in terms of the following criteria, which are all important factors when it comes to the decision making process:
Durability – Even with the commitment to affordability, Burrow sofas are on the more expensive end of the scale when it comes to lightweight, modular furniture. For this price ($1695+), you want a sofa that's going to last. We paid special attention to the durability of the upholstery when writing this sofa review.
Comfort – Co-founders Stephen Kuhl and Kabeer Chopra wanted to design a sofa that was comfy enough for multi-hour Netflix binges. We wanted to know whether not they succeeded. For this couch review, we tested the softness of the cushions and the couch's overall comfort, to see whether we'd survive watching all 695 episodes of Star Trek on it.
Style – Ultimately, comfort is the deciding factor when you're choosing a couch, but sofas can be comfy and chic, as this one proves. We had a look at swatches of all the different colors on offer, including Brick Red and Navy Blue before deciding to try it in Crushed Gravel.
Sustainability – As consumers have become more ecologically aware, sustainability has started to influence their purchasing decisions. We wanted to make sure that Burrow's brand ethics matched the concerns of our readers and that the Nomad Sofa was sustainably produced.
The Nomad Sectional Sofa from Burrow is one of the most comfortable, adaptable, and convenient sofas currently on the market. I tried the 4 Seater Corner Sectional couch in Crushed Gravel with responsibly-sourced walnut legs, block-style arms, and flip back cushions. Top tip: always make sure you shotgun the corner spot for maximum coziness.
The three layers of foam inside the cushions make for a lovely soft seat, but there's plenty of structure from the internal fibers to support you, meaning the seat cushions are comfortable without being absorbing.
The cushions are upholstered in an olefin fiber, which looks and feels really high-end. Plus, thanks to the tight weave of the fabric, it's totally scratch and stain resistant. Movie marathons are hungry and thirsty work, and you can definitely snack on this couch without worrying too much. One reviewer confirmed for us that the upholstery is even guacamole proof. So, the Nomad sectional sofa is perfect for parents, pet owners, and nacho lovers alike.
And as your family grows, this sofa can grow with you. Thanks to its modular design, you can add sections to expand the couch to accommodate more sitters. Burrow's patented latches, levers, and hinges make it really easy to attach extra modules, including chaises, which can be affixed to any seat for maximum flexibility.
The real game changer for this couch, though, has got to be the built-in USB charger and 72" power cord. If you're like me, and you like to watch your phone while Netflix plays in the background, that alone makes the Nomad sectional a winner for lounging around on during lazy evenings and weekends! It certainly gets a big thumbs up emoji from us.
The Best Overall Sofas of 2022
To help you find the best deep seat sofa, I tested individual models from over 23 different brands. These are the best new sofas with extra deep seats that balance the best in design, price, sustainability, and durability.
Real Burrow Customer Reviews
Positive Experiences:
"I spent a lot of time researching for a light grey sectional, and this couch did not disappoint. It is comfortable, beautiful, and well-made. Easy assembly. Love that you can move the sectional. HIGHLY recommend!"
"I've been wanting to get a Burrow for over a year before I finally purchased it; so I loved it even before the purchase. It's safe to say my weekends will be spent there."
Negative Experiences:
"I was very excited about the Burrow couch when it first arrived at my door. However, after assembly and sitting on it, I am kinda disappointed. I had a VERY HARD time screwing one crouch leg into the crouch. The thread on the nut isn't clean cut, and the screw doesn't fit in. I have to use tools and a lot of strength to basically re-make the nut, and then be able to screw in the leg. It feels a bit too stiff and doesn't have enough depth to let you sit cross-leg on the sofa."
"I just received my Burrow Sofa tonight. I am wishing a million times over I'd bought an Ikea couch… because it might look like a $600 couch, but the pieces would fit together. None of the pieces of mine fit, will have to return it. Big pain."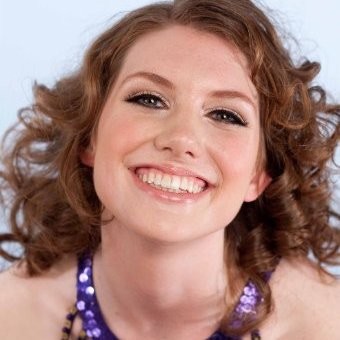 Writer with a background in ergonomics. Enjoys reviewing and discussing home furniture & clothing , that's comfortable and supportive for the entire family.