Ashley Furniture Price, Durability, Delivery, Pros and Cons
Ashley Furniture (aka Ashley Furniture HomeStore ) is one of the most trusted American furniture store chains. Founded in 1975, it's actually one of the oldest furniture store chains still in operation, with almost 100 store locations nationwide. Customers appreciate the attention to value-focused pricing, quality, and customer service that Ashley Furniture provides. And similar to big box retailers, Ashley Furniture continues to provide a wide range of home furnishings.
Like I mentioned, value is integral to Ashley Furniture's way of doing business. The chain is famous for its sets, which are perfect if you're furnishing an entire home. Whether you're shopping online or in-store, you can easily find quality furniture from new dining room tables to bed frames and headboards.
Ashley Furniture is perfect if you're furnishing a new home or buying furniture for the first time and don't know what to choose. I love how you can easily find entire living room sets, dining room sets, bedroom sets, and more, often under $2,000 each. Another thing I love is Ashley Furniture's commitment to price-matching. Essentially, Ashley Furniture will price match identical products from comparable online retailers including Amazon.com, Wayfair.com, Overstock.com, Target.com, Hayneedle.com, or Walmart.com. Ashley Furniture will even allow price matching up to 30 days after you've purchased from them.
Ashley Furniture Pros & Cons
Pros
Low comparable price point
Local showrooms
Financing available
Warranty available
An array of furniture available.
Cons
Limited 72-hour return window
Limited color options
No free shipping
Limited warranty
How much are sofas and couches from Ashley Furniture?
The prices for Ashley Furniture sofas fall in the range of $500 to around $2000.
Ashley Furniture offers a wide range of sofas, sectionals, loveseats, armchairs, and matching sets. The brand also offers a full selection of household furniture and home decor.
Overall, the price for an Ashley Furniture sofa ranges from $499 to $1999. On the lower end of the price range is your basic two-seat loveseat sofa, while on the higher end are the larger sectionals.
If that's a little out of your range, you can talk to your salesperson about financing or available discounts.
What is the most popular sofa or couch from Ashley?
Larkinhurst Earth Sofa
Price: Starts at $764
Sofa Dimensions: 38" H x 89" W x 39" D
Seat Depth: 22.5"
Seat Height: 20.5"
Distance Between Arms: 66"
Top of Cushion to Top of Back: 18"
Arm Height: 26.5"
Leg Height: 3.5"
Available Colors: Earth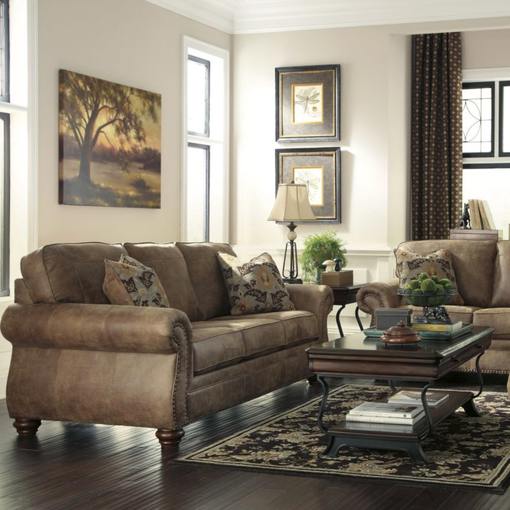 This show-stopping sofa will transform your living space with it's rustic, weathered appeal, at a fraction of the usual sofa cost.
Washed in an earthy Southwestern tone, filled with lush, back and seat cushioning and jumbo window-pane stitching, the sofa has the best of both worlds in terms of comfort and durability. Classic rolled arms and turned feet give this sofa a classic, traditional finishing touch.
Features:
Corner-blocked frame
Attached back and loose seat cushions
Cushions with ultra-supportive pocketed coils
2 decorative pillows included
Pillows with soft feather inserts; zippered access
Polyester/polyurethane upholstery; polyester/polyurethane and polyester pillows
Nailhead trim
Exposed feet with faux wood finish
How long does it take for Ashley to deliver sofas?
When it comes to deliveries, I found that Ashley Furniture was pretty hit or miss. Through customer reviews I read, it seemed like online and in-store customers had fairly varied experiences. The company provides standard shipping (5 to 10 business days) along with express and next-day shipping (1 to 2 days). However, express shipping is sometimes restricted depending on the item and where you may want it shipped to.
Based on previous Home of Cozy tests along with real customer reviews, I found that Ashley Furniture tends to hit most of its delivery dates within a reasonable time frame. However, if you're having any issues with delivery times or non-responsive delivery people, your best bet is to the phone number for customer care listed on the website. Or, if you shopped in a showroom, most store managers will gladly pick up most phone calls to assist you.
How long do Ashley sofas typically last?
From previous Home of Cozy tests and customer comments, it's reasonable to expenct Ashley Furniture sofas to last at least 12 to 15 years. While they don't produce the trendiest home decor, Ashley Furniture has built a great reputation for durable, long-lasting sofas if you choose some of their higher-end three-seaters and sectional sofas. I found that customers found some quality-related issues with lower-priced sofas.
Ashley Furniture Policies
Trial & Returns: 72 hours
Financing: Financing available
Warranty: Limited lifetime warranty on frame, 5-year warranty on springs, and a 1-year warranty on upholstery.
Where It's Made: Manufacturing occurs in the USA, China, and Vietnam.
Ashley Furniture has a pretty short return window: just 72 hours for you to note any defects and coordinate a return. Also, shipping and handling fees are not refundable. Considering many other new furniture companies and eCommerce brands have generous policies, this is something Ashley Furniture should likely update if it wants to stay competitive.
When it comes to warranties, Ashley gives customers a limited lifetime warranty on frames along with 5-year warranties on springs and 1-year warranties on upholstery and filling.
Real Ashley Furniture Customer Reviews
Ashley Furniture has fairly mixed reviews despite its long-standing reputation among customers. I read reviews that ranged from 1-star complaints calling their delivery guys "scam artists" to glowing 5-star reviews that praised attentive showroom customer care teams.
Out of thousands of Ashley Furniture customer reviews on the BBB (Better Business Bureau), Yelp, and Consumer Affairs, I wanted to highlight a few that captured the best and worst in what Ashley Furniture has to offer.
Overall, I found that Ashley Furniture was popular with shoppers who:
wanted furniture sets, specifically living room sets, bedroom sets, dining sets
shoppers on a budget
shoppers who love a great in-store customer experience with knowledgable sales associates.
Generally, I found that most customers who had issues with Ashley Furniture highlighted poor customer service along with some instances of poor quality on certain low-priced items. When it came to 1-star reviews, some customers definitely didn't mince words when they noted that Ashley Furniture gave them the "worst customer service experience" they'd ever had.
Here are some real positive, 5-star reviews from Ashley customers
"We shopped around at EVERY furniture store available more than once and ended back up at Ashley's. After diligently shopping, we found the perfect everything for us! We purchased a living room set, 2 bedroom sets, mattresses, dining set, desk & tables for all. It was a big purchase for us and we were very leary about any sales pitch we may get. From the time we walked in we met Lillian ** (Douglasville) who walked us through (without hounding us) & worked with us on EVERY item. We love the quality and style of every item we choose and look forward to the premium delivery and set up of them all this weekend, and a few coming in a few weeks. We will without a doubt return to Ashley's for any other upcoming furniture purchases. The manager Keiron ** was also very professional and accommodating. No doubt 5 stars for our experience! Thank you Ashley Team!"
"I had planned on purchasing my first new sofa and recliner and went to Ashley Furniture. Ashley K. From the Baxter, MN store was of great assistance with purchasing my McCade Cobblestone Reclining Sofa and Lazy Boy Recliner. She asked me the questions to quickly narrow down to a couple options. Ashley was great with providing guidance for colors to coordinate with my flooring. We are very pleased with the comfort, price, and the colors. Larger purchases like these are generally quite stressful for me but Ashley turned this into a positive experience and so pleased with my purchase. I would not hesitate to go back to the Baxter store and ask for Ashley K. The furniture and service was outstanding."
"I love Ashley Furniture store because they give you constant updates on their furniture in stock and sales. There is always something new to review in their department store. Their furniture has many styles to choose from. I am very interested in their living room and bedroom offers. The cost is a little high but if you want great value then you must pay for what is going to last for years until you decide you want to redecorate your home. There are so many colors and options to your taste. You will probably stay in their store all day."
Here are some real negative, 1-star negative reviews from Ashley customers
"This is the worst experience I have ever had at any business in my entire life. I wish we would have looked at reviews before going to Ashley's (Rosedale). Not only did they violate the terms of the contact (delivery between 2-8 weeks), but we were never called to be told of the delayed delivery. We had to be the ones to call. After almost 3 months, we asked a refund for the full amount paid upfront. $1,607, 4 visits to Rosedale, and 3 months of horrible customer service later, we had to go back to square one. Needless to say we went to a different furniture store. We paid a little more, but it was completely worth it, and we received our furniture after only 2 weeks with wonderful customer service."
"First of all, let me start off by saying you don't tell customers to go elsewhere… now, onto my main reason for posting this. I walked into Ashley here in Las Vegas off of Decatur. When I walked in, I knew right away what piece of furniture I wanted as I saw it online (no price posted). I was met by a sales associate who was nice, at first. I walked back and found out they had a special deal where I can get 50% off of any items in the store. Being a little suspicious that something was fishy, I found out what the product number was (B140-46) and did some research online, as well as called a couple other furniture stores locally that carried the same piece. The 50% off was off of the retail price of the item, which was $498.99 according to their tag on the furniture."
"Ashley's has the worse customer service. I paid $500 for a protection plan on my bedroom set and when I had a problem they fought with me on the phone and never even showed up to fix it. Don't get the protection plan whatever you do. They don't fix your furniture, they don't even come out to look at it. They deny you before even coming out to look. Horrible furniture quality and horrible customer service. Last time I spend 5,000 dollars on a set that falls apart after 2 years."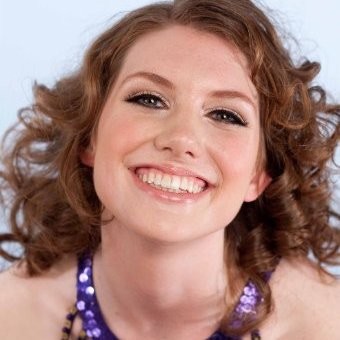 Writer with a background in ergonomics. Enjoys reviewing and discussing home furniture & clothing , that's comfortable and supportive for the entire family.