Lovesac Price, Durability, Delivery, Pros and Cons
Lovesac offers long lasting comfort that is more than flexible enough to meet the changing needs of families/hosts. The bean bags and couches are soft, stylish, and built sustainably. A win for every one of the criteria we measured this brand against.
The original Lovesac bean bag chair was born out of a passion for comfort and proximity. At 8 feet wide, it was made to be snuggled on. Founder, Shawn Nelson, designed and produced the first few prototypes of the Lovesac in his parents' basement in Utah in 1995. Three years later, he launched the initial product range with the help of close friend and business partner, Dave Underwood.
The original model was made out of nylon and filled with foam. These days, Lovesac bean bag seats are filled with premium shredded durafoam, which is designed to absorb your body weight evenly and doesn't shrink over time. You won't find any bead fillings here.
Lovesac.com says, "Sacs are the closest thing you'll get to sitting on an actual cloud" – and their customers agree, for the most part
"Have you ever just wanted to feel you are being hugged by a cloud? Well, look no further than a Supersac. Kinda the best thing if you just want to destress and hang. Plus, it's way more versatile than a couch," one reviewer said, and there are many more like that.
Obviously, this reviewer hadn't tried out a Lovesac couch, though. Lovesac expanded their range of products to include sofas and sectional sofas, which they call "Sactionals", in 2006. These couches are so flexible, easy to reconfigure into endless different arrangements.
Ten years later, these sactionals were at the forefront of Lovesac's change of direction. In 2016, the company adopted a direct-to-consumer sales model, redesigning 50+ showrooms to drive sales of their couches. Now, Lovesac have almost 80 showrooms nationwide, and they have been named America's fastest growing furniture retailer by Furniture Today not once but twice in under ten years.
In this review, we'll focus primarily on the Sactional couch – making sure it checks the boxes for our readers across comfort, design, sustainability and durability.
Pros and Cons of Lovesac
Pros
Unlike other brands we've reviewed (including Joybird, Pottery Barn, and La-Z-Boy), Lovesac offers free shipping anywhere within the contiguous United States
You get a lifetime warranty on soft insert pieces.
They have a wide selection of sizes, fabrics, patterns, and colors for you to choose from on both their sacs and sactionals. Plus, you can order free fabric samples from them, to try before you buy.
Lovesac has more than 70 showrooms across the mainland United States. So, unlike some of the other brands featured on our website, which are exclusively online retailers, you can actually go into one of their stores to test the sacs and sofas out before you order them.
Even so, this brand offers you a 60-day trial period. If, for any reason, you do not like your couch when you get it home, or it's faulty, you can get a full refund or exchange up to 60 days after the date you received it.
All the different covers are removable, exchangeable, and machine washable. So whether you fancy a fresh look without buying a whole new sofa, or you just want to give your current cushions a clean, pop the covers off, wash them, dry them, and/or replace them, and it'll be like your couch is brand new again.
Lovesac also produce accessories, like blankets, pillows, guest bedding, coasters, and drinks holders. These are particularly popular with Lovesac customers.
Cons
Standard shipping takes 1-2 weeks. Allform, Article, and Burrow sofas usually arrive faster. And because Lovesac ships items with FedEx, there's no white glove delivery service either. You have to unbox and assemble your Sactional when it arrives.
Customized items are subject to longer shipping windows.
There is a limited 3 to 5-year warranty on their fabrics, when other brands (e.g., Allform and Apt2B) offer you lifetime warranties on their products.
With a price range of $375 to $10,600 for standard items, Lovesac is pricier than similar brands. To put this in perspective, the average cost of a sofa or loveseat in the US is $1,000. At Lovesac, this will get you a 1 Seat + 1 Side sactional. That's definitely not big enough to stretch out on.
How much are sofas from Lovesac?
Pricing for standard Sactionals start at $1,000 for 1 Seat + 1 Side – $10,600 for 10 Seats + 12 Sides, but the exact cost of your Lovesac sofa will depend on your choice of upholstery, filling, and accessories.
How long does it take for Lovesac to deliver sofas?
Standard Lovesac sofas take 1 to 2 weeks to arrive, which is about middle of the range when it comes to sofa delivery in the US. Some brands with local warehouses/outlet furniture stores provide same or next day delivery. Wayfair has same day shipping on some of their products, while selected sofas from Amazon will arrive the next day – but other retailers can take up to 2 to 3 months to fulfill your order.
Customers who have purchased customized sofas should expect to wait 4-10 weeks for their orders to arrive.
Shipping is free in the contiguous United States, but in Alaska, Hawaii, and Canada, standard shipping rates will apply. Lovesac sofas are delivered in boxes and require self-assembly. White glove delivery and set up service is not an option. Lovesac ships their products using national delivery companies like FedEx.
How long do Lovesac sofas typically last?
Lovesac sofas are extremely durable and will last a long time, even in busy, rambunctious households. They can last from 10 to 15 years, if properly maintained.
One satisfied customer says:
"We have had our initial set for almost 10 years (It has lived with pets and kids!). We got a bigger place and easily ordered extra pieces to make it bigger. It has been a bed, armchair, fort, giant movie lounger, a sectional."
The company offers warranties on all its products/components, but lengths vary according to the fillings/fabrics used, e.g.:
Lovesac bean bag seats (lifetime)
Standard hard insert pieces for sactionals (lifetime)
Standard soft insert pieces for sactionals (3 years)
Lovesoft™ foam inserts (5 years)
Top grain leather sofa covers (5 years)
All other sofa covers (3 years)
Please note that, in order to make a warranty claim, you will need to provide your original receipt or order number. Furthermore, warranties only apply to manufacturer defects; you are not covered for damage caused by use, abuse, or reasonable wear and tear.
Lovesac Return Policy
Lovesac operates a 60-day return policy. Within two months of receiving a standard sofa, you can exchange it or get a full refund on your purchase. Customized items and clearance items are non-refundable. In order to receive your refund, all original components must be included in the return, and you will be required to show proof of purchase. Please note that any shipping fees (if you are in Alaska, Hawaii, or Canada) are also non-refundable.
Trial/Returns: 60-day home trial
Financing: Lovesac offers 6 or 12-month promotional financing with a Lovesac Credit Card. Apply online or at your local showroom.
Warranty: Lifetime warranty on Lovesac bean bag chairs and hard insert pieces. Other warranties vary (3-5 years from date of purchase).
Production: Lovesac goods are manufactured in the USA & China.
What is the most popular sofa from Lovesac?
4 Seats + 5 Sides Sactional
Price: starts at $3280
Sofa Dimensions: 111″ x 70″ x 35″
Seat Frame: 35″ W x 29″ D x 18″ H
Seat Cushion: 35″ W x 29″ D x 7.7″ H
Back Pillow: 35″ W x 2.9″ D x 22.4″ H
Side Frame: 35″ W x 6″ D x 28.5″ H
Fabric Options: Velvet, Polylinen, Chenille, Tweed, Phur, Leather, Twill, Canvas, Linen, Microsuede, Weave, Tweed, Denim, Faux Linen
Available Colors: 22 Quick Ship Options and 137 Custom Options
Foam Options: Standard foam or Lovesoft luxury foam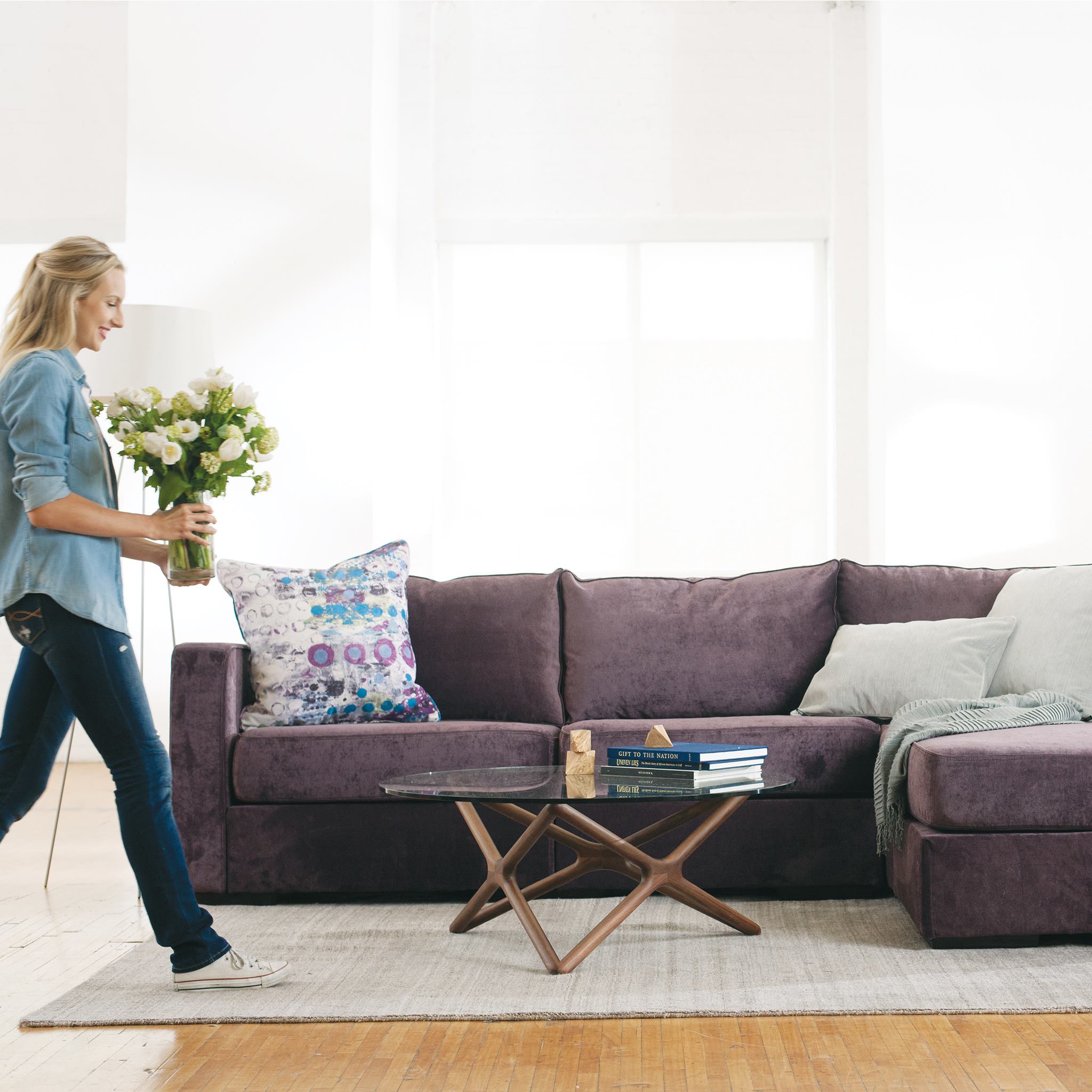 Our Lovesac Sactional Review
At Home of Cozy, we know there are a lot of things to consider when you're buying a new couch. In addition to reviewing the manufacturer's specs, we've actually tested this sofa for ourselves, and evaluated it in terms of all of the following to bring you our very own review:
Durability– At this price, you want a couch that's going to last. We paid special attention to fabric quality and durability when testing this sofa.
Comfort – The whole point of a couch is that it's a comfy place for you to sit and relax, let go, unwind. It was important for us to find out whether the 4 Seats + 5 Sides Sactional was as cozy as it looks for lounging before we made our recommendation.
Versatility – Our evaluation included testing how easy it was to rearrange this couch for different looks and uses.
Style – Comfort is probably the #1 factor in choosing a couch, but sofas can be both stylish and comfortable, as this one proves. In order to determine what would look best in your living room, we reviewed samples of their different fabrics.
Sustainability – In 2020, it was revealed that sustainability is important to a majority of consumers, and 6 in 10 people are willing to change their shopping habits to reduce their impact on the environment. Because it's such an important factor in the decision-making process now, we wanted to make sure the sofa we were recommending to you was sustainably produced.
The Best Overall Sofas of 2022
To help you find the best deep seat sofa, I tested individual models from over 23 different brands. These are the best new sofas with extra deep seats that balance the best in design, price, sustainability, and durability.
The Lovesac Sactional is one of the most comfortable, durable, and flexible sofas out there. They are designed to last and evolve, with removable covers so you can keep up with changing trends.
Your Sactional starts with just two pieces, 1 Seat and 1 Side, and you can build up from there to create a couch that's perfectly tailored to your space and lifestyle. We tried the 4 Seats + 5 Sides Sactional in Sapphire Navy Corded Velvet with a standard foam filling, and it was super comfy, super cozy, no fluffing required.
The great thing about a dense velvet weave is that nothing catches, snags, or sticks, making these sofa covers extremely long lasting and ideal for a family home. But if you do need to clean them – or you fancy different looks over the seasons – all the covers are removable, machine washable, and you can change them up as often as you like. You'll feel like you've got a brand new sofa every time you put new covers on.
Because of this, you will find you do not need to upgrade your sofa so often. In fact, it is estimated you're saving 4 other couches with shorter lifespans from landfill every time you purchase a couch from Lovesac, because they can last up to 10 years or longer in great condition.
Plus, Lovesac uses upholstery fabric made from 100% recycled yarns produced from waste plastic, so their Sactionals are not only comfortable and stylish, but sustainable as well.
The one drawback of the Sactional, especially if you're getting a big one, is the assembly process. Or, at least, I thought it would be. The number of boxes that arrived was a bit scary, and it took us a little while to unpack them and put the sofa together, but that might have been because we kept rearranging all the seats. We tried a couple of different configurations to find out whether the Lovesac Sactional was as adaptable as we were promised.
On lovesac.com, their Sactional is trademarked as, The World's Most Adaptable Couch™. A bold claim – but actually, it did not disappoint. The number of different configurations seem endless, and whichever way we put it, it looked and felt great. It was pretty easy once we got the hang of it, too.
But don't just take our word for it. See what real Lovesac customers had to say about this sactional below.
Real Lovesac Customer Reviews
Positive Experiences:

"Purchased a year ago now and don't have a single regrets [sic]. I was buying a new couch almost yearly because I would change my mind on style, configurations, etc. so, we finally decided to invest that money into a Sactional and I would totally do it again! I've reconfigured so many times and love that the covers are washable. I have the taupe padded velvet and they wash great and look brand new after. They also hold up well with 4 dogs and 2 toddlers!"
"We set up a corner sofa instead of the configurations shown. It works in a small space and serves as a guest bed. The extra covers are perfect for a busy area for family and pets. The ability to change to table and chairs whenever we want? Bonus!"
Negative Experiences:
"After going to several showrooms and feeling that it was incredibly comfortable and so versatile as advertised, I am just so disappointed after almost a year. It is not very comfortable. It is an absolute project to reconfigure or wash covers. I legitimately regret purchasing this, I wish there was some sort of buyback or marketplace to sell mine. I hate it."
"The couch is very comfortable and versatile, but the covers do not last. As soon as the warranty expired the cushions began peeling and are now falling apart. I can not recommend this product for long term use. If you want to change your covers very often then this may be a good purchase, but these covers do not last."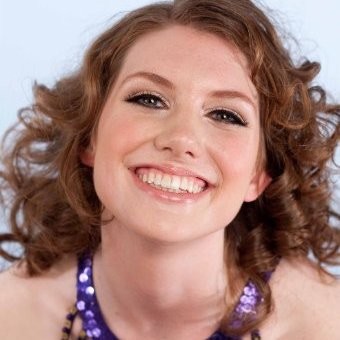 Writer with a background in ergonomics. Enjoys reviewing and discussing home furniture & clothing , that's comfortable and supportive for the entire family.